Schedule and pay in one place
Managing your team doesn't have to be complicated. Make the switch to 7shifts Payroll and your first 3 months are on us.
Get 3 months free Payroll
Is it easy to import my payroll data?
Can it handle my restaurant-specific payroll needs?
Will I have support during implementation?
Can I switch without missing a pay period?
Am I able to automate tip deductions?
Is my business and employee data secure?
Will I have unlimited payroll runs?
Is there a benefit to using 7shifts for more than payroll?
Speedy payroll runs
Pay your team in minutes, not hours
Spending several hours a week running payroll manually? In this economy?
Automate the process so you can focus on supporting your team and serving customers.
Run payroll in just a few clicks
7shifts Payroll is designed to automate restaurant complexities like tip pools, tip credit calculations, PTO, and state compliance requirements.
Don't stress the tax
Make tax problems a thing of the past. 7shifts calculates and files payroll taxes with the right federal, state, and local agencies for you.
Onboarding is easy
Simplify your employees' lives with one place to onboard, access paystubs, and understand earnings in the 7shifts mobile app.
"I switched to 7shifts Payroll from one of the 'big' payroll companies. Implementation was a breeze. Running payroll is extremely simple and the dashboard is user friendly and up to date."
Lewis Sharp
Franchisee of Ellianos Coffee Co.
"It was a no-brainer. My employees onboarded via the mobile app in 10 minutes and I'm already saving hours of time processing payroll. Total game changer."
Fahad Hanif
Owner/Operator, Halal Guys
"I'm really loving 7shifts Payroll so far. It is ridiculously easy to go through the process from start to finish!"
Anne Marie Cilley
Owner, The Casual Pint
"7shifts has been able to keep us within our targets and budgets with such ease and efficiency. [It] has saved us countless hours of time."
Tara Edie
Lead Server, Chulita
"Since using 7shifts our overall productivity has gone way up... our team is more engaged and has shown a more positive attitude within the workplace."
Aleksandar Srejic
Manager, GrillSmith
A system that just works
Stop pulling your hair out over your restaurant tech.
A system that just works
Ditch the disjointed experience between multiple tools. Get started with 7shifts and see just how simple it can be when your payroll, scheduler, and time clock all live under one roof (and actually work).
Limited time offer
Your first 3 months of payroll are on us.
Limited time offer
Don't just take our word for it, try 7shifts Payroll free for 3 months. Once you're up and running, the only thing you'll need to worry about is what you're going to do with all your saved time and money in 2024.
Free onboarding support
Dedicated help is only a call, email, or chat bubble away.
Free onboarding support
You're not in this alone. Our support team is ready to help you get started so you can easily switch providers without missing a beat (or a pay cycle).
The reviews are in...
7shifts is loved by more than one million restaurant professionals
4.8 • 1.6K Reviews
4.5 • 5.51K Reviews
4.5 • 92 Reviews
4.7 • 1.1K Reviews
Better employee experience
Your team will thank you.
Better employee experience
Make it easy for your staff with one single place to check schedules, swap shifts, access paystubs, and view W-2s, all in the 7shifts mobile app. Plus, managers will love how quickly new hires get onboarded.
Automated taxes
Make tax headaches a thing of the past.
Automated taxes
7shifts Payroll is specifically designed for restaurants to address tips, labor, compliance, union fees, onboarding, and tax calculations so paying your employees is a breeze.
A single tool for all your team operations
You only need to remember one password.
A single tool for all your team operations
When you use 7shifts for payroll, your employee data is in one place. That means you can pay your team, create and share schedules, manage tips, and more... all with just one login.
Tip pooling + payouts
No more bank runs with automated tip management.
Tip pooling + payouts
Reduce errors by sending tips directly to payroll and save time with easy tip pool creation and calculations. Best of all, you can finally say goodbye to last minute bank runs with instant tip payouts.
Proactive compliance
Stay ahead of labor laws and compliance issues.
Proactive labor compliance
We'll keep you on track to comply with Fair Workweek laws, no matter where you operate from. We help surface up to 341 labor law infractions every month, equalling an average penalties savings of $589.
Straightforward pricing
$39.99/month per location
+ $5/month per employee paid
Free.
Enjoy your first 3 months on 7shifts Payroll free so that you can see the simplicity for yourself.
Unlimited.
That goes for regular and off-cycle payroll runs, giving you the flexibility to manage your team without constraints.
Free.
Unlike other providers, you won't pay for implementation support or employee onboarding. Our team is on standby to help optimize your workforce from day 1.
A 3-minute overview
See for yourself just how easy payroll can be.
A 3-minute overview
See for yourself just how easy payroll can be.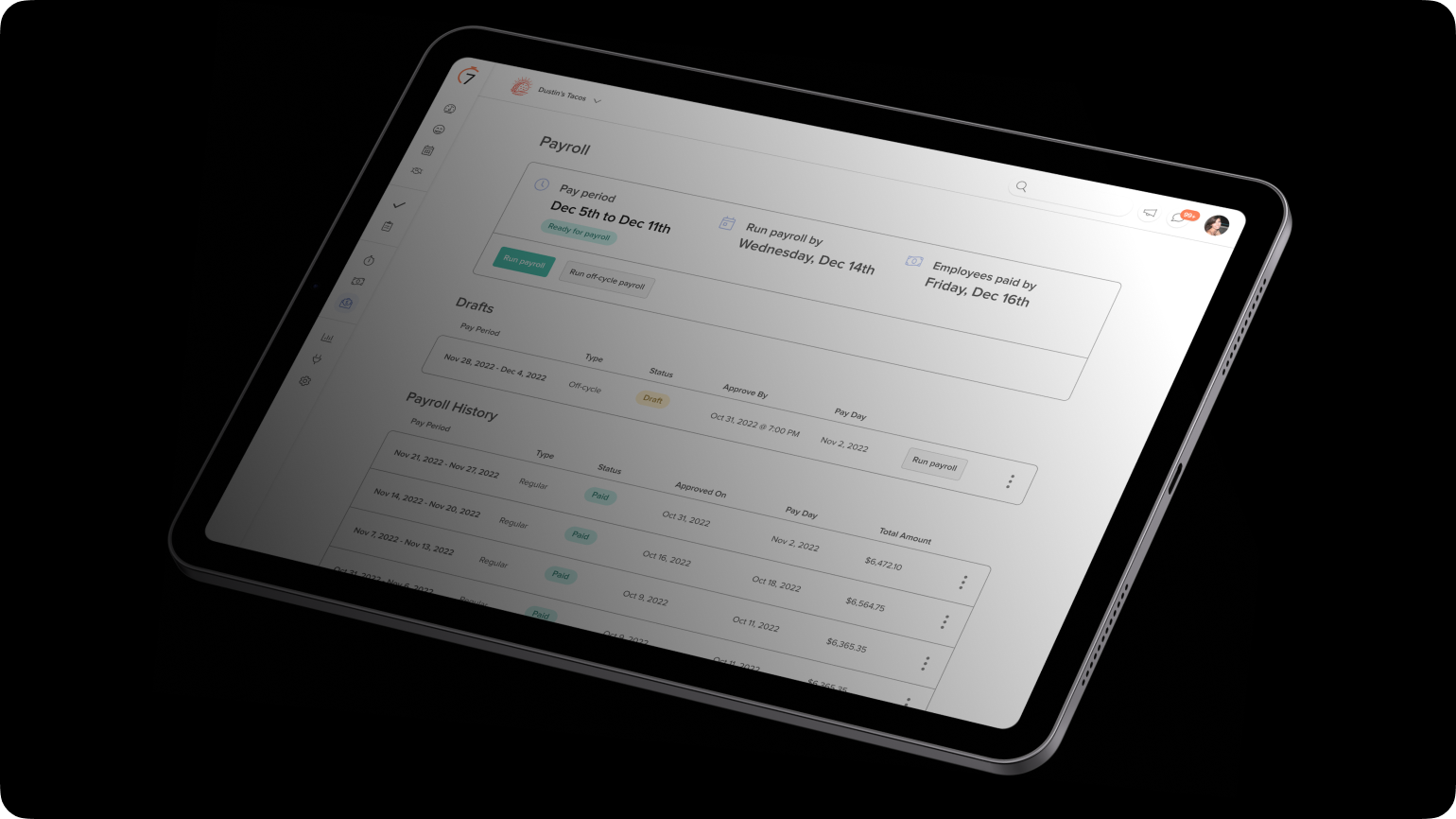 FAQ
Not quite finding what you're looking for?
Give us a call at
888-979-5877.
Who can join 7shifts Payroll?

Any restaurant in the USA. If you're in another country, check back — we're expanding quickly!

How will my state and quarterly tax payments be handled?

Why should I choose 7shifts over other payroll providers?

When you say 7shifts Payroll is automated, what does that mean?

Will I be locked into a contract?
Payroll is only the beginning
7shifts is the complete team management platform built for restaurants